Delivery & Hours of Operation
Monday - Friday 8am - 6pm, Saturday 8am - 12pm, closed Sundays
We always have a pharmacist on call outside our normal business hours for 24 hour availability
We work with our homes to deliver the medications in a timely manner and on a schedule that meets the needs of their clients and staff
Packaging Options
RXIS offers 30 day punchcard/blister card systems or Dispill monthly and weekly packaging. These options are offered by either cycle fill, on demand or auto replenishment depending on the needs of the facility. The medication can be delivered on cycle intervals of 14, 28 or 30 days.
Consulting
RXIS offers monthly on-site consulting by a pharmacist to all our facilities.
Specialty Pharmacy/Compounding IV's & Injectables
RXIS works with our specialty and compounding pharmacy to meet these needs within our client facilities. We work with each insurance company and the state board of pharmacy to ensure regulations are being met for these types of medications.
Items Offered upon Contract
RXIS will work with each facility to determine the need for fax machines and med carts within the facility. Determining the size, locations and additional supplies required to complete daily functions around pharmacy services.
Medical Records
RXIS will print MARS and other forms needed to complete daily tracking of medication per client. If there is an electronic interface, RXIS will establish a feed within systems for creating electronic MARS.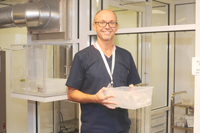 "RXIS provides our residents with great service.
The communication between our nursing staff and the pharmacy is like none I have ever experienced having been a licensed nursing home administrator for over 27 years. Not only are they communicating with the nursing staff but they also do an excellent job of communicating with me on any issues that arise." - Diane Reese, LNHA